Veterans' Consumer Protection
All too often, con-artists target active duty servicemembers, veterans, and their families for consumer scams. Attracted by their steady employment and financial stability, these businesses go after unsuspecting consumers in hopes of making an easy profit.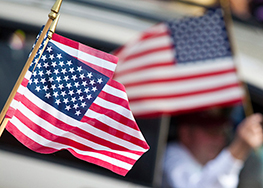 Examples of the different types of scams include: predatory lending with unreasonably high interest rates, bait-and-switch sales offers, and long-term installment contracts for items such as cars, furniture or electronics at inflated prices. These predatory businesses frequently use military-sounding names, military symbols, and former servicemembers in sales or executive positions. These tactics can mask their true goals. Additionally, these scammers may advertise near military bases as well as in "military newspapers," which are circulated for free on local military bases.
The National Consumer Law Center publicized how a retired 20-year Navy veteran was victimized. During a time when he had family-related expenses to pay, he learned about C&A Financial Programs from their ad in the Navy Times. He ended up paying a total of $32,400 over three years for his $15,000 loan, which had an annual interest rate of over 63%. This is just one example of how servicemembers and veterans are taken advantage of by predatory businesses.
The San Diego County District Attorney's Office aggressively prosecutes those who commit consumer fraud. Please see the links below for additional information and services.
Lottery Scam
A new scam targeting senior citizens and veterans is promising victims that they won a lottery jackpot so long as they pay state and federal taxes first. The suspects are using phony letterhead with the official seal of San Diego County to trick unsuspecting citizens into believing they have millions of dollars in sweepstakes winnings.
A local retired couple recently lost almost $30,000 in savings to the scam after receiving a letter informing them of their winnings with a photocopy of a check issued to them in the amount of $2.5 million. The letter thanked them for their service and said the lottery winnings would be deposited into their Navy Federal Credit Union account once the taxes per paid.
Please read more about the scam and tips on how to avoid falling victim.
Real Estate Fraud
With foreclosures on the rise, criminals are taking advantage of struggling veterans by committing mortgage fraud. Many appear to be legitimate consultants or brokers, but their schemes are aimed at stealing your money or property. If you believe that you've been a victim of a criminal foreclosure consultant or other real estate fraud, call the San Diego District Attorney's Real Estate Fraud Complaint Line to request a complaint form. If you believe you have been a victim of real estate fraud, or you have suffered a loss involving your home or purchase of a home due to fraud, you must complete a complaint form for us to review your case. Call 619-531-3552 to request a complaint form.
Although this office cannot legally represent individuals in civil matters, help cancel any debt due on a signed contract, resolve or mediate individual contractual complaints, or obtain any other personal relief, we will pursue these criminals and prosecute them as the law allows. We do recommend the Housing Opportunities Collaborative for foreclosure counseling or assistance with loans. housingcollaborative.org. You can also call 1-888-999-HOPE for a HUD-approved housing counseling agency.
If you have already transferred title to your property, you should consult with private counsel to explore the legal solutions available. If you do not have an attorney, you can contact the San Diego County Bar Referral Service and they will help you find a qualified attorney for your case.
Foreclosure Rescue Scams
The predominant foreclosure "rescue" scams generally come in three varieties:
Title Transfer
The most dangerous scheme is the "bailout" that never quite works. This scenario includes various schemes in which the homeowner surrenders title to the house in the belief that within the deal, they'll be able to remain in the home as a renter, and eventually buy it back. Homeowners are sometimes told that surrendering title is necessary so that someone with a better credit rating can secure new financing to prevent the loss of the home. But the terms of these deals are almost invariably so onerous that the buyback becomes impossible, the homeowner loses possession permanently, and the "rescuers" end up with all or most of the home's equity, often evicting the original homeowner. Another scam convinces the homeowner to transfer title to a "federal land grant" with the false promise that this prevents the lender from foreclosing.


Bait And Switch
In the bait-and-switch scheme, the homeowner does not realize they are surrendering ownership of the house in exchange for a "rescue." Many homeowners later insist that they believed they were only signing documents for a new loan to make the mortgage current. This also results in the homeowner losing their home.


Phantom Help
The third scheme could be called "phantom help" since the "rescuer" charges outrageous fees, either for light-duty phone calls and paperwork the homeowner could have easily performed, or on a promise of more robust representation that never materializes. In either event the homeowner is usually left without enough assistance to actually save the home but with little or no time left to prevent this grievous loss by the time it's realized. The "rescuer" essentially abandons the homeowner to a fate that might have been prevented with better intervention.
ARMED SERVICES MORTGAGE FRAUD ALERT
Avoiding HAMP Mortgage Modification Scams; Resources for Service members
FRAUD ALERT:
Mortgage modification fraud schemes targeting struggling homeowners and which exploit the federal Home Affordable Modification Program (HAMP) have become increasingly common, and members of the Armed Services community struggling to make their mortgage payments should beware of con artists and scams that promise to save their homes and lower their mortgage debt or payments. A number of these scams are specifically targeting members of the Armed Services community.
FACTS:
For service members having trouble paying their mortgage, free help is available. Advice from U.S. Department of Housing and Urban Development (HUD)-approved housing counselors is always FREE, as are mortgage modifications under HAMP. In most cases, charging fees in advance for a mortgage modification is illegal. HUD-approved housing counselors can help you avoid scams and better understand your options.
RESOURCES:
Consumer Fraud Alert – For tips on how to identify and avoid mortgage modification scams and to view the Consumer Fraud Alert issued by the HAMP Mortgage Modification Fraud Taskforce, visit www.SIGTARP.gov/documents/Consumer_Fraud_Alert.pdf.
U.S. Department of Veterans Affairs – If you are an active-duty servicemember or veteran and have a VA loan, call the U.S. Department of Veterans Affairs at 1-877-827-3702 or visit the Loan Guaranty Service Home Loan Program Web site at www.HomeLoans.VA.gov.
Making Home Affordable Program – For free mortgage-related advice and assistance from HUD-approved housing counselors or to apply for HAMP, call the Homeowner's HOPE™ Hotline at 1-888-995-HOPE (1-888-995-4673) or visit www.MakingHomeAffordable.gov. You can apply to HAMP on your own or with free help from a HUD-approved housing counselor. Applying to HAMP is always FREE.
Consumer Financial Protection Bureau – For additional help and more information about mortgages, dial 1-855-411-2372 or visit www.ConsumerFinance.gov/mortgagehelp.
Fannie Mae – If your mortgage is owned by Fannie Mae, for help and more information, dial 1-800-7Fannie or visit https://www.fanniemae.com/singlefamily/.
Freddie Mac – If your mortgage is owned by Freddie Mac, for help and more information, dial 1-800-Freddie (option 2) or visit https://sf.freddiemac.com/general/helping-borrowers-avoid-foreclosure.
U.S. Department of Agriculture – If your mortgage was issued by the USDA, for help and more information, contact the Centralized Servicing Center at 1-800-414-1226 or visit RDHomeLoans.USDA.gov.
Federal Housing Administration – If your mortgage is insured by FHA, for help and more information, contact the National Servicing Center at 1-877-622-8525 or visit https://portal.hud.gov/hudportal/HUD?src=/program_offices/housing/sfh/nsc.
REPORT FRAUD:
Special Inspector General for the Troubled Asset Relief Program – If you believe that you or someone you know has been a victim of a mortgage modification scam exploiting HAMP, dial the SIGTARP Hotline at 1-877-744-2009 or visit https://www.sigtarp.gov/Pages/crimetips.aspx to submit a tip, which can be done anonymously.
Consumer Financial Protection Bureau – To report mortgage modification issues unrelated to HAMP, visit https://www.consumerfinance.gov/ to submit a complaint.