Testing Sexual Assault Kits
Reducing the countywide backlog of untested sexual assault kits has been a priority of San Diego County District Attorney Summer Stephan since taking office in July of 2017. The DA's testing initiative is consistent with new best practices guidelines by the Department of Justice recommending the testing of all rape kits published August, 2017.
---
"Rape cases leave victims with deep emotional and physical wounds and having seen how much bringing their perpetrators to justice matters, I'm committed to doing everything we can to solve their cases. These kits may contain powerful evidence that can speak on behalf of victims and prevent a future assault."
- District Attorney Summer Stephan
---
The District Attorney's Office has retained Bode Cellmark Forensics, of Lorton, Virginia, a nationally certified laboratory used in multiple regions to test the backlogs and has extensive experience testing sexual assault kits (SAKs). The DA's office has spent about $1.5 million, so far, on this priority initiative. This is a snapshot overview of the previously un-submitted SAKs inventoried by all law enforcement agencies in the county, excluding the San Diego Police Department. The overview and numbers will continue to change as kits move through the submission and testing process.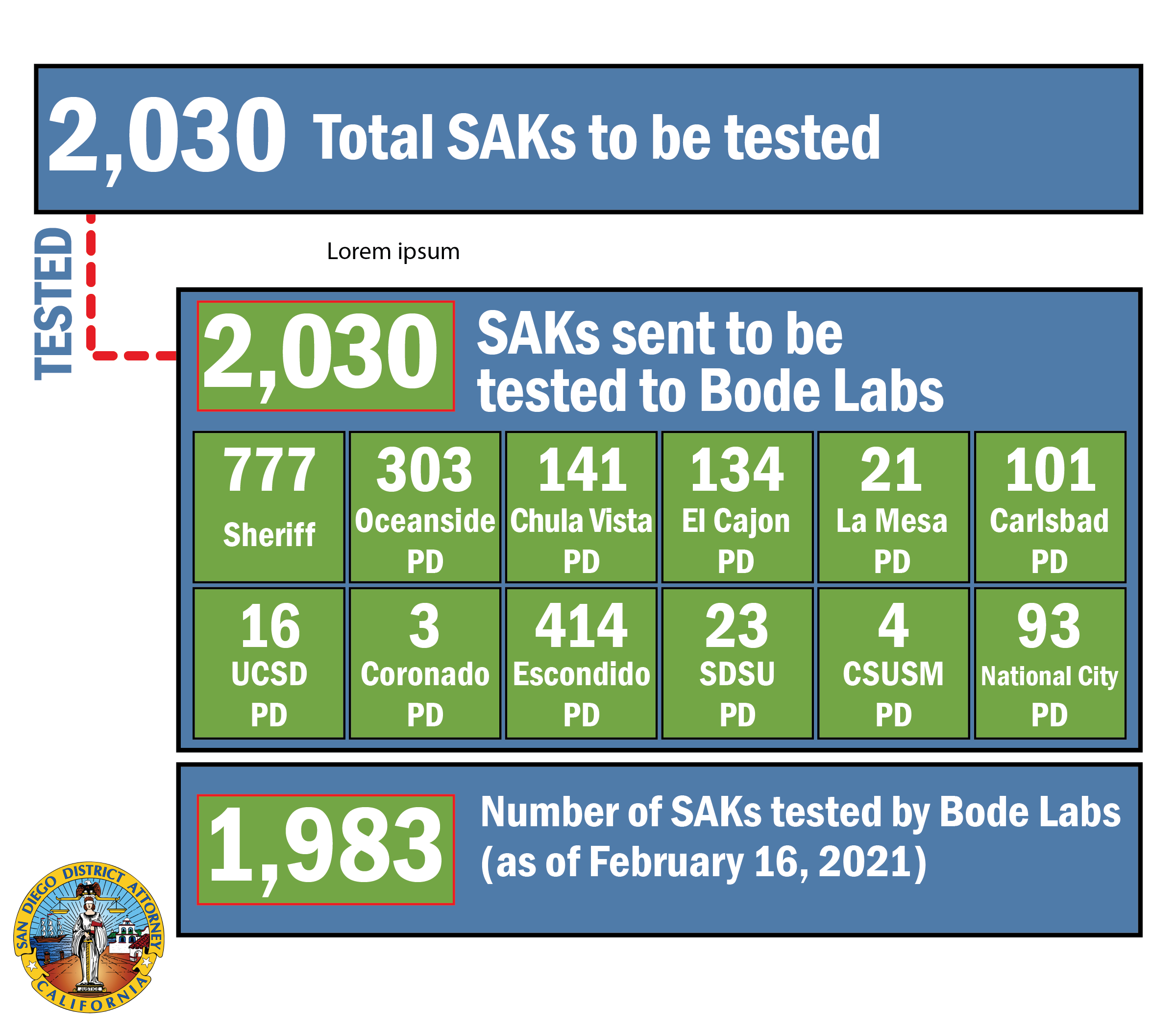 Total SAK kits to be tested in the graphic is the total number of sexual assault kits that date back to the year 1990 for the Sheriff and all 11 of the police departments that contract with the San Diego County Sheriff's Laboratory for testing of forensic evidence. The above chart now reflects an additional 274 kits discovered by the Sheriff during the inventory process of this project. Also, this number does not include SAKs housed at the San Diego Police Department, which is conducting its own testing.