*2023 Request for Applications is NOW CLOSED*
The next grant issuance is planned for spring 2024*
Background:
The San Diego County District Attorney's Office is dedicated to supporting organizations with a willingness to help maintain our safe neighborhoods. The DA's Community Grant Program (CGP) seeks to engage organizations in San Diego County to identify community needs and implement new and innovative methods to address community safety and expand community assets – such as hope and resilience regardless of zip code.
Grant funding up to $50,000 is available to selected organizations to support projects and services over a maximum of twelve (12) months to grow promising community-based solutions that produce positive results in the following focus areas: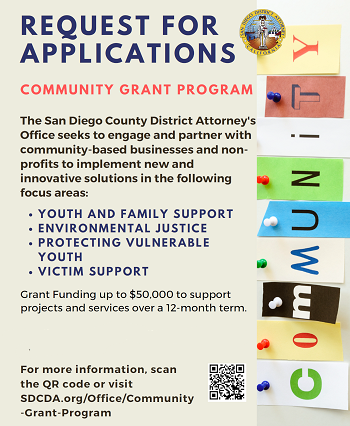 Youth and Family Support – Solutions addressing the safety of youth and families, including but not limited to conditions or situations that may adversely affect school attendance, education performance, behavioral health, physical safety, or pro-social behavior and engagement. Proposals should demonstrate strategies for addressing and reducing harm through education, or crime prevention and/or intervention programming. Special consideration will be given to proposals that focus on reducing fentanyl use and proposals reducing involvement in groups that adversely impact public safety.
Environmental Justice – Solutions addressing a neighborhood's needs or challenges that without intervention may negatively impact the safe surroundings and atmosphere for all community members. Solutions may include the need for safety infrastructure, neighborhood beautification, enhanced safety measures, and other positive and proactive strategies improving neighborhood surroundings and health.
Protecting Vulnerable Youth – Solutions addressing youth involved in illicit drug use, sale, and/or drug trafficking, and youth targeted for human trafficking. There is an increasing and widespread challenge cutting across all demographic sectors to protect vulnerable youth from the dangers and risks of physical, and psychological harm from exposure to illegal activities and criminality. Youth are vulnerable to harassment and exploitation by adults using false promises, manipulation, romantic relationships, and money to lure them into dangerous situations, thereby compromising their future. Proposals should address strategies that protect youth from predatory harm and empower them to choose alternatives to involvement in high risk and dangerous activities.
Victim Support – Solutions addressing the needs of primary and secondary victims of crime with the goal of providing programs that are effective, improve outcomes for victims, and lead to a reduction in crime. Requests for victim services are increasing due to changing populations, varying needs and increasingly complex systems that challenge victims and service providers. Proposals should address innovative and dynamic strategies to identify, assess and provide services to victims that are driven by the needs and the voices of victims.
These focus areas were determined in collaboration with stakeholders and community partners and are supported by trends in regional crime data. The District Attorney's Office is eager and excited to partner with small organizations embedded in communities who may not have had access to grant opportunities previously but are poised to propose innovative and dynamic approaches to addressing the above areas of focus. The District Attorney's Office is committed to ensuring CGP providers reflect the diverse makeup of the communities we serve.
Funding Requirements:
Applicants may request up to a maximum of $50,000 to be utilized for up to a twelve (12) month period. Organizations must identify the amount of funds requested and ensure the requested funding is reasonable and plausible for the proposed use of funds. Organizations are encouraged to request a funding amount reasonably needed for the proposed use of funds.
Grant funds awarded will be one-time funds intended to provide an opportunity to pilot promising community-based solutions that demonstrate positive results and merit sustainable ongoing funding. Programs that intend to utilize funding as part of a long-term program or project are encouraged to consider a sustainability plan for funding beyond the grant period. Programs that were successful in their first year will be considered and are encouraged to reapply.
Grant funding is intended to implement new programs/projects, or to expand existing programs with new and innovative methods to address community safety in the specified areas of focus. Funds are not intended to supplant or replace existing funding and future funding is based on funding availability and not assured.
Please note that grant agreements will require participating organizations to incorporate evidence-based and/or evidence-informed practices where applicable and will also include periodic reporting of performance measures and program outcomes.
Applicant Eligibility:
Organizations with a Business License or a Non-Profit Organization, minimum of one (1) year in operation.
Possess all valid industry licenses, permissions, permits, and/or insurances necessary for services proposed.
Comply with all laws applicable to wages and hours of employment, occupational safety, and to fire safety, health, and sanitation.
Willingness to enter into an agreement with the District Attorney's Office and meet all contractual obligations identified in the agreement: 1_RFA 23 CGP Agreement.pdf
ANTICIPATED APPLICATION TIMEFRAME:
Grant Announcement:
Monday, February 27, 2023
Grant Portal Opens:
12:00 AM (PST) on Monday, March 6, 2023 (5 weeks from announcement)
Applications Due:
11:59 PM (PST) on Sunday, April 9, 2023
Grant Portal Closes:
12:00 AM (PST) on Monday, April 10, 2023
Applications Reviewed:
Monday, April 10, 2023 - Friday, May 5, 2023 (3 weeks)
Notifications to Applicants:
Monday, May 8, 2023 - Friday, May 12, 2023
Agreements Processed:
Monday, May 8, 2023 - Friday, May 26, 2023
Grant Effective Date:
June 1, 2023
Community Grant Program - How to Apply
Application Instructions
Thank you for your interest in the District Attorney's Community Grant Program.
The application portal will open at 12:00 AM (PST) on Monday, March 6th, 2023 here:
Applications and all supporting documentation must be uploaded via the Community Grant Program Application Portal by 11:59 PM (PST) on Sunday, April 9th, 2023. No exceptions will be made. Once the application and supporting documentation are uploaded and submitted, you will receive a confirmation email. If you do not receive a confirmation email, please email CommunityGrant@sdcda.org immediately. It is the applicant's responsibility to troubleshoot any technical issues before the due date and submit all required information via the portal prior to 11:59 PM (PST) on Sunday, April 9th, 2023.
Should the Reviewing Committee have questions or require clarification on your application, you will receive an email from CommunityGrant@sdcda.org Please ensure the contact information listed in the application is accurate. If the Reviewing Committee does not receive a response within the allotted timeframe, the submitted application will not be reviewed.
We have included the Crosswalk to Program Definitions and Guidelines as a tool to assist in completing the Community Grant Program Application. The tool can be accessed here: 2_RFA 23 Croswalk.pdf
The San Diego County District Attorney's Office is committed to the equitable treatment of all applicants. For this reason, please DIRECT ALL QUESTIONS TO THE COMMUNITY GRANT PROGRAM VIA EMAIL: CommunityGrant@sdcda.org APPLICANTS WHO DIRECTLY REACH OUT TO DISTRICT ATTORNEY STAFF REGARDING THEIR APPLICATION, MAY BE DISQUALIFIED.
REQUIRED APPLICATION COMPONENTS:
Applicants must submit the Community Grant Program Application and all supporting documents in Adobe PDF file format. Additional documents submitted as attachments, other than the ones listed above, will not be reviewed.
Please note that all grant recipients are required to attend a webinar on the Community Grant Program's reporting requirements and reporting portal. The date will be provided to grantees on a future date.