Veterans Court
Veterans Court takes veterans with misdemeanor and felony convictions and places them on a separate track, giving them treatment designed especially for veterans. Defendants in the program are closely monitored with regular court hearings and supported by Veterans Affairs and other community-based organizations. Participants are rewarded for success, and penalized for non-compliance with the rules. Only veterans who committed crimes as a result of a mental illness related to military service are eligible for the Court.
The program is a collaborative effort between the Superior Court, District Attorney's Office, Defense Bar, treatment providers, and the California Veterans Legal Task Force.
Participants are carefully screened and placed into programs that will give them the tools to treat mental health issues and become productive citizens. Many vets cope with problems when they return home from a deployment and must work to readjust to civilian life as well as to injuries and psychological problems, which can lead to substance abuse or issues with the law.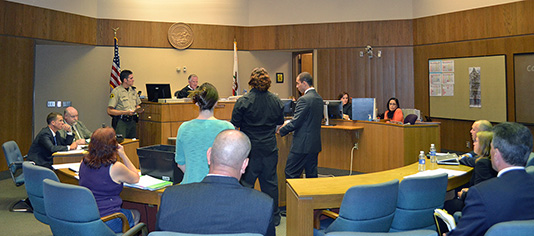 To be considered for Veterans Court, defendants must have prior or current military service and be able to show some type of mental health issue related to their service (post-traumatic stress disorder, traumatic brain injury, military sexual trauma, etc.). Trauma from combat is not always required. However, there must be a connection between the criminal offense and a military related mental health issue. Prior to acceptance into Veteran's Court, each case must be screened and approved by a selection committee, which meets twice per month. Cases involving arson, sex registration, or prison sentences are not eligible.
San Diego Superior Court Judge Roger Krauel presides over Veterans Court, which meets every two weeks.
Veterans Court News Coverage
WSJ - Convicted Combat Vets Watch Each Other's Backs to Stay Out of Prison
WSJ - Brothers in Arms Look Out for One Another
U-T San Diego - New court provides hand out to veterans
U-T San Diego - First county veterans court date set
U-T San Diego - Brown signs key military, veterans bills
KPBS - Veterans Get Clean Slate Through Court Program
KPBS - Veterans Court Study Proves Encouraging for Organizers
NBC San Diego - Local 'Veterans Court' Gives Vets a Second Chance

Veterans Court Bios
Cases are handled on behalf of the District Attorney's Office by Deputy District Attorneys Harrison Kennedy, John Dunn and Evan Miller.
John Dunn
John joined the District Attorney's office in November of 2012. Prior to joining the office John spent six years on active duty in the Marine Corps. From 2007 through 2009, John was stationed at Marine Corps Air Station Miramar. From 2010 until November 2012, he was stationed at the Pentagon.
Harrison C. Kennedy
Harrison has prosecuted cases for the District Attorney's Office since 2001. Currently, he focuses on crimes involving child abuse, domestic violence, and homicide. He became involved with Veteran's Court after returning from a deployment to Afghanistan with the U.S. Army's 2d Stryker Cavalry Regiment in 2011. Previously, Harrison served with the 25th Infantry Division in Iraq.
Evan Miller
Before joining the DA's Office in January 1983, Evan spent more than three years on active duty in the Army. After graduating from the Army's Judge Advocate General's School at the University of Virginia, Evan was assigned as a Trial Counsel (prosecutor) with the Army's 21st Support Command in Heidelberg, Germany. During his three years in Germany, Evan prosecuted over 100 Court-Martials. After leaving active duty and joining the DA's Office, Evan transferred into the Army Reserve where he served until his retirement in November 2006 at the rank of Colonel. Evan has been part of Veteran's Court since its inception and is presently assigned to the DA's Juvenile Division.
George Loyd
George joined the District Attorney's Office in December 2005 after working at the San Diego City Attorney's Office for five years. He served as an active and reserve infantry officer with the Marine Corps. Deployed to Mogadishu, Somalia for United Shield in 1995 and has made three deployments to Iraq as a company commander, staff officer, and as an advisor to the Iraqi Army. Deputy DA George Loyd passed away in September 2013. He will be missed by all.