Veterans and the DA's Office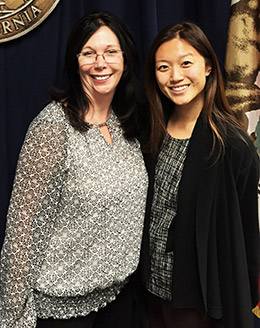 The District Attorney's Office has two AmeriCorps VISTA (Volunteers in Service to America) members serving at our office. They are developing and implementing the San Diego County Veterans Empowerment Program, which aims to help veterans reentering society from incarceration as well as address issues of all veteran populations returning to San Diego County. The program will be instituted through partnerships with service provider organizations over three years.
The DA's Office is focused on using its expertise in reentry to develop a program and process, which will promote a seamless transition for veterans from returning from service to a life of stability, including economic opportunity, education, mental health assistance, physical health assistance, and other social services.
Through a case management system developed by the VISTA members, and which will be implemented by community partners, the Veterans Empowerment Program will connect veterans and military families to housing resources (including emergency housing and transitional services), financial literacy resources, and employment resources through vocational training or education as a means to prevent crime and criminal behavior, and to create a pathway out of poverty to sustainable living.
Each year the District Attorney participates in a number of parades. One of her favorites is the Veterans Day Parade.