Protecting Children Online
About the Campaign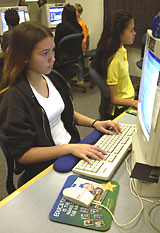 En Español
About the Campaign
Facts You Should Know
Dangers to Children Online
Warning Signs
Tips for Parents
Chat Lingo
Resources for Parents
Real Cases
Child Safety Tips

The District Attorney's Office created the "Protecting Children Online Safety Campaign" in order to shield children from dangerous predators online. We are working hand-in-hand with law enforcement, parent groups, children's organizations and private businesses to launch a major public outreach program to give parents the tools they need to keep their children safe.
Currently, our advisory committee has members from the San Diego District Attorney's Office, San Diego Police Department, San Diego Sheriff's Office, Ninth District PTA, San Diego Unified Council of PTA's, Promises 2 Kids (formerly Child Abuse Prevention Foundation), YMCA Youth & Family Services, Cubic Corporation and Di Zinno Thompson. We plan to meet regularly to discuss how to best reach parents and start protecting children. Contact us if you would like to schedule a speaking engagement. Meet our Partners.

Matthew Greco has been a Deputy District Attorney for thirteen years. He is currently the legal advisor and lead prosecutor for the San Diego Internet Crimes Against Children Task force. In addition to prosecuting abuse, exploitation and sexual assault cases involving children, he also prosecutes other forms of domestic violence. He has tried over eighty cases including murder, attempted murder, rape, arson, child molest, robbery and narcotics. He has trained both federal and state prosecutors on topics including how to successfully prosecute crimes involving the sexual exploitation of children on the Internet and speaks often to parents and community groups about Internet safety.