4 or 40: FAQ's
What is the DA's Youth Advisory Board?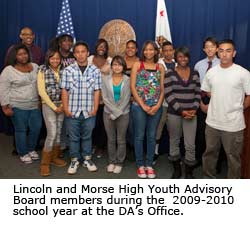 The mission of the District Attorney's Youth Advisory Board (YAB) is to educate and advise the community. We aim to spread general awareness about the needs and challenges of the youth, and pressing issues affecting young people in San Diego County, resulting in a positive change throughout the community that leads to a reduction in crime.
How did the Youth Advisory Board begin?
The District Attorney's Office created the Youth Advisory Board (YAB) in 2008 as a way for her office increase awareness about youth issues in the local community. Currently, YAB membership is composed of Lincoln and Morse High School students in San Diego's 4th District and the group is looking to make an impact county-wide.

Goals of the YAB:
Educate younger kids
Show the real story on youth violence, community, and life
Educate young adults
Educate those in and out of jail
What is "4 or 40: The Choice is Yours"?
The message of "4 or 40: The Choice is Yours" is: The choices you make during your four years in school will impact your next 40 years. The film's message is not about crime or violence; it's about choices. The focus is on positive choices and possibilities.
Who put "4 or 40" together?
Several groups contributed to the making of "4 or 40," including the San Diego District Attorney's Office, Lincoln High School students and administrators and The Studio at Kilby Pond (a local production company).