Protecting Children Online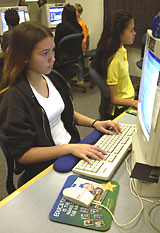 En Español
About the Campaign
Facts You Should Know
Dangers to Children Online
Warning Signs
Tips for Parents
Chat Lingo
Resources for Parents
Real Cases
Child Safety Tips

Real Cases
There are predators in San Diego who troll the Internet looking for children. They search chat rooms for children to befriend and victimize. They send the children e-mails, instant messages, and obscene photographs. When they have gained the victim's trust, they try to arrange a secret meeting. Then, the offender tries to meet the child for sex. Here are some examples of Internet crimes against children that have occurred in San Diego and across the nation.
Defendant Sentenced to Life in Prison for Child Molest:
In January 2000, a male defendant was sentenced to 141 years-to-life in prison. An investigation by the San Diego Police Department and the local FBI uncovered a videotape and photographs of the defendant molesting a young child. He posted the video and photos of the molests on the Internet. Following a jury trial by prosecutor Jeffrey Dort, the defendant was convicted of 39 counts.
Defendant Attempts to Lure Young Girl on the Internet:
A male defendant met someone he thought was a 13-year-old girl online. The defendant propositioned her using explicit language and sent her obscene photographs. He set up a meeting to have sex with his young victim. Little did he know the teen was really a San Diego Police Officer. He was arrested and in May 2001, was convicted of multiple local and federal charges.
One Defendant Was Not So Wise:
The defendant often spent part of his workday at a local water company surfing the Internet for pornography sites that featured young girls. While visiting chat rooms, he sent obscene photographs, instant messages, and e-mails to someone he thought was a 12-year-old girl. He was convicted in September 2001, and fired from his job.
Woman Meets 14 Year-Old Boys Online for Sex:
A 39 year-old woman used the Internet to lure teenage boys. She met boys between 14 and 17-years-old in chat rooms and enticed them into coming to her home. She gave the boys alcohol and had sex with them. In June 2000, she pled guilty to two counts of Unlawful Sexual Intercourse with a Minor. She is now a registered sex offender.
Kindergarten Teacher Solicits Sex Online:
The defendant was convicted in January 2001, of charges stemming from soliciting sex from someone he thought was 13 years old. He met the girl in a chat room and went to meet her in person for sexual activities. The "girl" was really a 20-year-old television reporter. The defendant was forced to resign from the Vista School District and barred from teaching in California.
Military Communications Director Snagged in Internet Sex Scam:
In July 2000, a defendant used the Internet to arrange a sex date with someone he thought was a 12-year-old girl. He traveled more than 1,400 miles from Idaho to have sex with his victim. He was convicted of a sex crime.
Career Navy Legal Assistant Sentenced to Prison:
In January 2002, a man was sentenced to state prison for the attempted molestation of two children. The case began with the defendant chatting online and bragging about molesting a 4-year-old girl. Later, the defendant met a man online who claimed to have two children, ages 8 and 14. Defendant went to a hotel with sexual paraphernalia in order to meet the children but was met by San Diego police instead. The children turned out to be fictitious but the defendant's intent was not. A search of his computers recovered over 150,000 pornographic images. Many of the photos were of young children, between the ages of six months and ten years, being molested by adult men.
Child Pornographer Added to FBI's Ten Most Wanted List:
A musician was indicted for producing and distributing child pornography, including a videotape that shows him having sex with an 11-year-old girl. The defendant was the first child porn suspect to be added to the FBI's Most Wanted Fugitives List. He was captured in August 2001, in Bangkok, Thailand, where he was teaching music to children.
International Child Porn Ring Shut Down:
More than 100 suspects have been arrested so far in an International child pornography investigation called "Operation Avalanche." One of the key figures in the on-going investigation was the owner of Landslide Productions. He was found guilty of 89 counts of sexual exploitation of minors, distribution of child pornography and conspiracy. His Texas company provided access to child porn sites. The company made as much as 1.4 million dollars a month. In December 2000, he was sentenced to 1,335 years in prison by a Texas judge.
Other Recent Cases and Arrests
Orange County:
In December 2001, a college sophomore was charged with the rape and torture of a 15-year-old girl he met over the Internet in a chat room. Police said that the defendant also carved swastikas in the girl's face.
In November 2001, a Superior Court judge in Orange County was arrested for attempted molestation of a child over the Internet. Police say they recovered computer diskettes from the judge's home showing young boys having sex.
San Bernardino County:
In October 2001, a pediatrician, pled guilty to 11 felony counts of attempted child molestation and sending pornographic pictures to a minor via the Internet. The doctor preyed online for a young girl to train as a sex slave and said he knew how to torture a child without leaving marks. The doctor received a year in jail and his medical license was revoked.
Los Angeles County:
A Pasadena math teacher is on trial for keeping hundreds of images of child pornography, trying to seduce underage girls over the Internet and having a sexual relationship with a 15-year-old girl. The defendant headed a high school math department before his arrest.
Elsewhere:
In November 2001, an 18-year-old El Cajon man was arrested in Las Vegas for attempting to kidnap a 14-year-old girl he met on the Internet. According to investigators, the man intended to take the girl back to California.
In January 2002, a 13-year-old girl was found tied up in the home of a Virginia man. The girl met her abductor on the Internet. Investigators report the man kidnapped the girl so he could have sex with her.