Protecting Children Online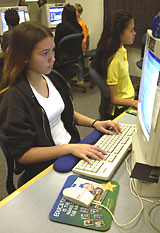 En Español
About the Campaign
Facts You Should Know
Dangers to Children Online
Warning Signs
Tips for Parents
Chat Lingo
Resources for Parents
Real Cases
Child Safety Tips

Keeping Your Children Safe in Today's World
A mother stops by a relative's house and leaves her toddler in the backseat of her S.U.V. A stranger jumps into the driver's seat and speeds off toward the border. After an exhaustive search, the baby is discovered abandoned, but safe, at a landfill in Tijuana.
A 17-year-old teenager befriends a mother who is shopping with her newborn baby at a department store. When the mother becomes distracted, the teen grabs the infant, runs out of the store and drives off in a truck. The baby is recovered -- unharmed.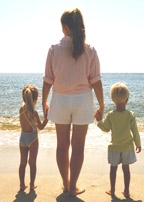 Abduction is often a crime of opportunity. The scenarios presented above are real cases with happy endings. But that's not always the case. When strangers abduct children, the results are often tragic. So it's understandable that stranger-abduction is a crime that terrifies most parents.
Every year, thousands of children are reported missing. Almost all of them are kidnapped by family members and the children are returned, unharmed. Stranger abduction, however, is a crime that's actually quite rare. But when it happens, the risk of injury or death is high.
Recently, there have been several high profile missing-children cases that have frightened families across the country. While it's critical that parents be alert and prepare their children for the unexpected, keep the fear factor in check. Reduce anxiety by talking to your children and practicing child safety.
What Can You Do -- Child Safety Tips
For more information or to help find missing children, contact the National Center for Missing and Exploited Children at www.missingkids.com.
Promises 2 Kids (formerly Child Abuse Prevention Foundation) - promises2kids.org/
Office of Juvenile Justice and Delinquency Prevention, Department of Justice - www.ojjdp.ncjrs.org/pubs/missing.html
Federal Bureau of Investigation's Crimes Against Children Program - www.fbi.gov/hq/cid/cac/crimesmain.htm
McGruff the Crime Dog - information on child safety, identification, abduction, fingerprinting, and crime prevention - www.mcgruff-safe-kids.com
Klaas Kids Foundation - www.klaaskids.org
Child Watch - www.childwatch.com