San Diego County Regional Leadership Institute
Vision
To develop San Diego County's regional law enforcement leadership and enhance police-community relations in a united forum.
Mission
Through collaboration, leadership and excellence, the institute is committed to providing current, relevant and accessible training to San Diego County law enforcement leaders while also building strong community relations that are based on mutual trust and respect.
Overview
The San Diego County District Attorney's Office, in collaboration with local, state and federal law enforcement agencies is facilitating the San Diego County Regional Leadership Institute.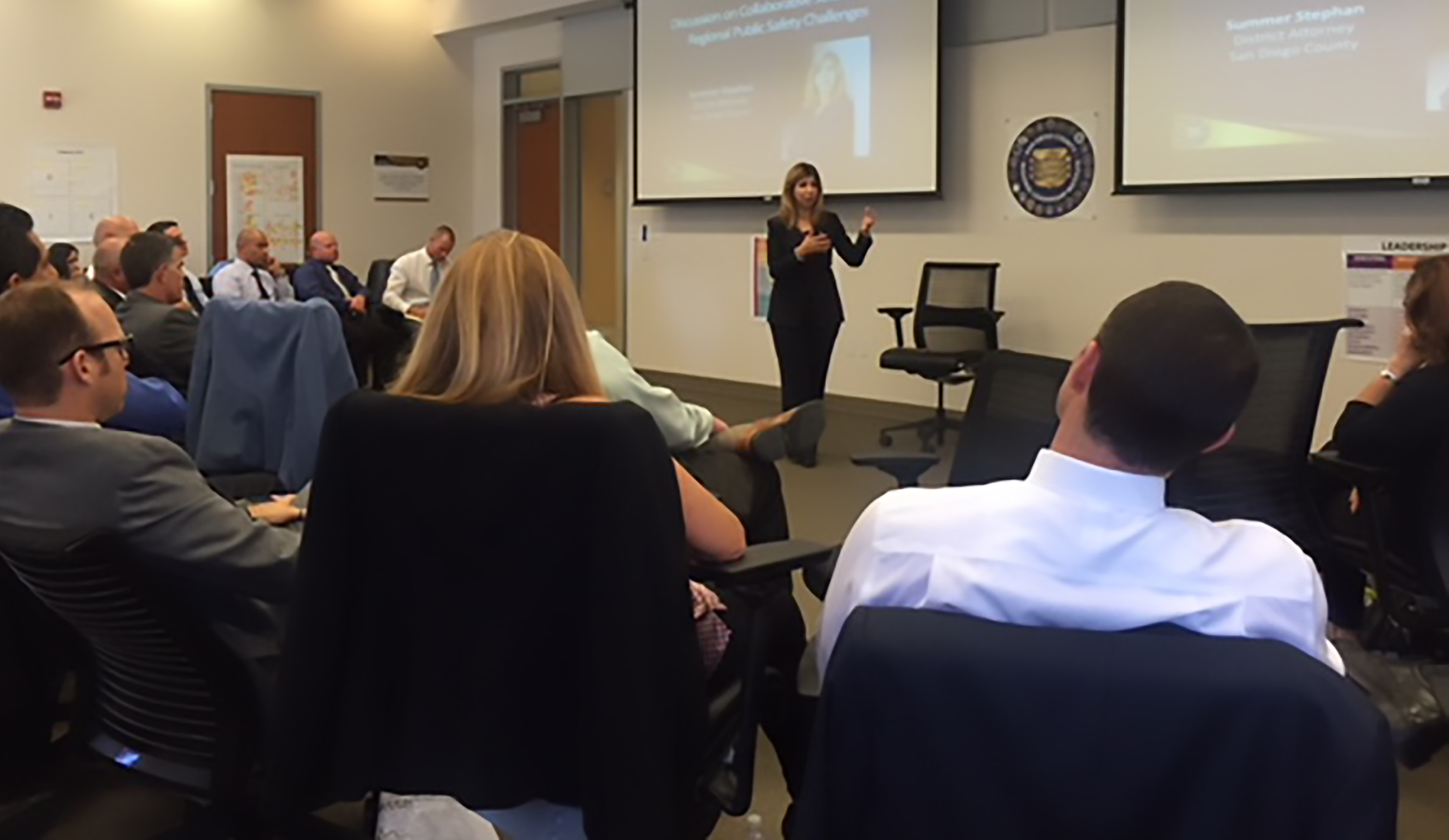 This institute is a unique leadership training program for sworn peace officers in the region because it develops leaders from the inside out. The Institute is taught by over 40 regional law enforcement leaders and consists of 42 courses that focus on self-awareness, leadership competencies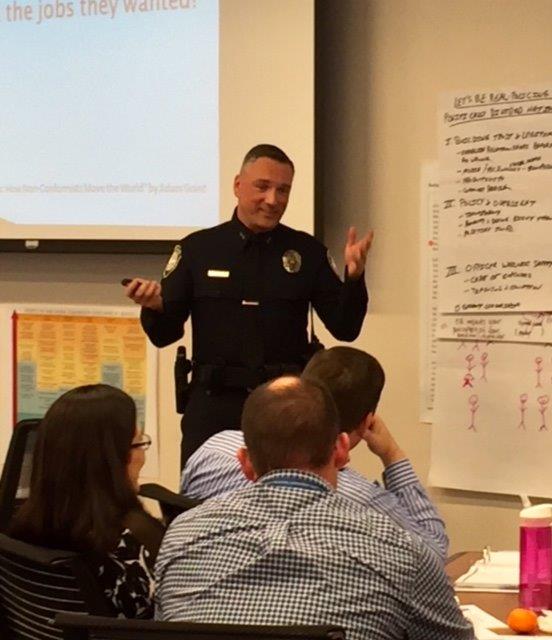 and functional skills.
The Institute is specifically designed to get to the core of leadership in each individual. Track I, Leadership Theory and Preparation, provides the participants with six self-assessments that target key leadership characteristics, such as communication styles and emotional intelligence. In Track II, Leadership Competencies, the participants apply the knowledge from those assessments and develop leadership competencies, such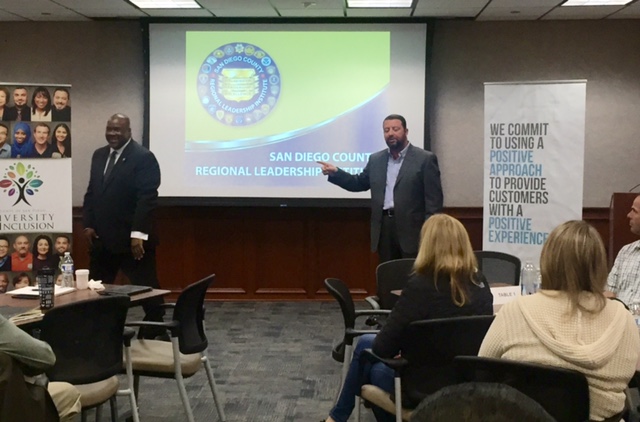 as initiative, problem solving, interpersonal relationships and organizational acumen. Track III offers Functional Skills courses, where participants are able to apply what they learned about themselves in Track I and II to such courses as Implicit Bias, Procedural Justice and Media/PIO.
The Institute is also dedicated to building strong, positive relationships with our local communities. Through open and honest communication, we strive for better understanding and partnerships between law enforcement and all neighboring communities.
2023 Institute Dates
Registration Form
All applicants must submit the 2023 registration form to their department's training coordinator for processing.
THE REGISTRATION DEADLINE FOR THE SPRING 2023 INSTITUTE IS DECEMBER 19, 2022.
THE REGISTRATION DEADLINE FOR THE SUMMER 2023 INSTITUTE IS APRIL 24, 2023.
THE REGISTRATION DEADLINE FOR THE FALL 2023 INSTITUTE IS AUGUST 14, 2023.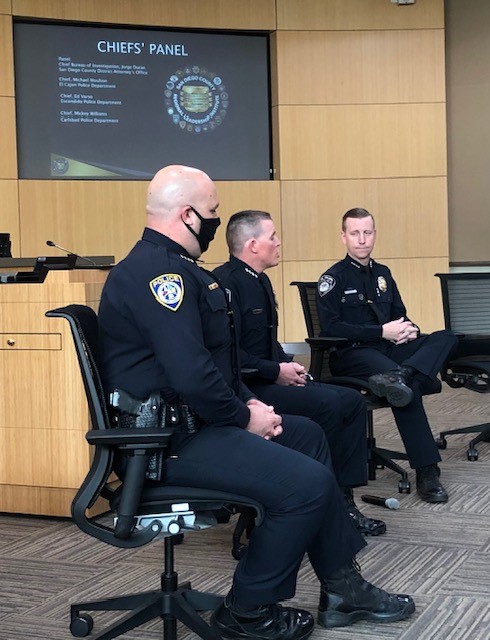 Testimonials
"The breadth and depth of instruction provided through the RLI takes into consideration both leadership theory (through assessments and the reinforcement of those results throughout) and practical application of those through discussions, exercises and the Let's Be Real sessions. I think it's a cutting edge approach to leadership development in a county where the dynamics across agencies are already exceptional. This type of leadership training will cement those relationships for years to come."
- Johanna Hladun, Supervisory Special Agent, Federal Bureau of Investigation
"Law enforcement leaders face unique challenges today and this institute provides necessary tools and skills to prepare leaders to meet those challenges. From a focus on leadership theory and its practical application, to addressing issues such as resolving conflict and dealing with implicit bias, the institute brings to the forefront national issues impacting us on a regional level. This institute is certainly relevant and applicable to leadership in law enforcement."
- Brian Miller, Supervisory Special Agent, Drug Enforcement Administration
"In my 20-year career, I have worked in numerous counties throughout California. There is no doubt that law enforcement in San Diego County is unified in a common goal of being in the forefront of our profession. The San Diego County Regional Leadership Institute is another example of a regional approach to a law enforcement need. SDCRLI provides the tools for law enforcement leaders to be successful, not only for departmental gain or personal growth, but also to listen to and understand our communities and the people we serve from their perspective (Let's Be Real series). Having well-trained leaders, and understanding our communities wants and needs only build upon public trust. Providing this first class leadership training to current and future law enforcement leaders in the county, again, shows the county's commitment to a better-trained law enforcement community."
- Lorenzo Ruano, Lieutenant, California Highway Patrol
"I think the curriculum and emphasis of the institute will enhance the student's leadership capabilities while focusing on the needs and issues relevant to San Diego. I enjoyed being with people from other local agencies for the purpose of developing contacts with other agencies and to learn about how they are solving problems and challenges they are facing. I also thought that completing the various assessments prior to the course and then having them interwoven throughout the courses was a great strategy to get people to think about things in different perspectives. I found it very fascinating as it really allowed me to comprehend the different work styles and communication styles, especially mine, and how that impacts my performance and interactions with others. I also think that this Institute is a perfect example of how agencies in San Diego are not afraid to collaborate with one another. It's also important to showcase that our law enforcement leaders continue to push for higher standards in leadership, setting expectations for what we want in our leaders, strategically thinking about the future needs and issues facing our departments and communities, and that we are constantly striving to improve our relationship with the communities we serve while still maintaining our mission."
- Denise Huffhines, Division Chief, San Diego County Probation
"In law enforcement, the bottom line is still community service. Service-oriented policing cannot be accomplished unless law enforcement agencies work together with each other and with community leaders. The San Diego Regional Leadership Institute is built on a foundation that combines theory, practical application, and "Let's Be Real" discussions between police and members of the community. This cutting-edge approach will improve law enforcement's trust in one another and will help build crucial relationships between police and the public. This is not cookie-cutter law enforcement training. The SDCRLI will be instrumental in shaping the future of San Diego County law enforcement leadership."
- Nancy Dodd, Supervising Investigator, San Diego County District Attorney's Office
"It is refreshing to see that San Diego County is taking the lead on such a very important leadership issue. The San Diego Regional County Leadership Institute is paying attention to the demands on public safety leadership and delivering a robust curriculum of real and relevant leadership issues we all face. This is especially important to our areas emerging leaders because it gives them both theory and practical tools. The obvious solution to preparing our current and future leaders is for us to take the time to invest in training. SDCRLI is clearly the place to prepare our leaders. It is a solid investment that will have great rewards."
- Michael Loarie, Captain, Escondido Police Department
"Every generation of law enforcement may face what appear to be unprecedented challenges; our current policing/social environment is certainly no exception. RLI covers timeless leadership theory and practice, but also presents an unblinking current, honest portrayal of the challenges our officers/deputies are facing on the streets this month, this week. These presentations lead to discussions of 'How will you lead your personnel, your agency, forward in this environment?' With multiple agencies present, multiple viewpoints are presented and evaluated. This cross-county and cross-jurisdictional pollination produces exceptional insights and creates a unique, unparalleled learning environment."
- Patrick Cooley, Sergeant, San Diego Police Department
Awards
San Diego Crime Stoppers - Ken Moller Memorial Training & Mentoring Award for Exceptional Contribution To The Law Enforcement Profession
National Association of Counties (NACo) Achievement Award
Learn More
POST Certification
The SDCRLI is POST certified, effective March 7, 2017. Currently, there is no cost for enrollment.
POST ID Lookup
To obtain your POST ID, please use this link .
Contact Information
Anne Calle
(619) 550-8155

Phoebe Le
(619) 913-1019

Email: sdcrli@sdcda.org
Trainers
If you are interested in becoming a trainer, we'd like to hear from you. The success of this institute is made possible by the shared talents and experience of our local law enforcement. Without a doubt, the collaboration and contribution of San Diego County's law enforcement agencies is what enriches this unique institute.