CITIZENS' ACADEMY
Citizens' Academy Overview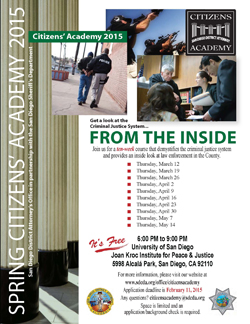 The San Diego County District Attorney's Office, in partnership with the San Diego County Sheriff's Department, is offering a free Citizens' Academy to members of the community with an interest in the criminal justice system and law enforcement. From the prosecution of serial murderers to the most complex financial crimes, the Citizens' Academy offers a behind-the-scenes look that demystifies the workings of the criminal justice system.
Among the topics covered in this fast-paced, 10-week program: computer crime, human trafficking, elder abuse, use of force by law enforcement, gang violence in our communities and the current state of narcotics prosecutions. Participants will have the unique opportunity to hear directly from leaders in both the District Attorney's Office and the San Diego County Sheriff's Department. Highlights include a fascinating tour of the San Diego County Medical Examiner's Office, and the ability to see up close how law enforcement officers are trained to react on the spot to a deadly threat of force.
The academy will meet on Thursday evenings beginning March 12, 2015 and ending May 14, 2015. (Note flyer for exact dates.) The academy lasts three hours each week, from 6:00 to 9:00 p.m., and will be held at the University of San Diego, Joan B. Kroc Institute for Peace and Justice, located at 5998 Alcala Park, San Diego, CA 92110. Parking is free.
Registration
If you are interested in participating, we urge you to apply now because space is limited and past Academies have filled quickly. The deadline to apply is Wednesday, February 11, 2015.
Due to the presentation of sensitive materials, prospective students must be 18 years or older and undergo a background check before being accepted to the academy.
Please take a look at our flyer for dates and schedule for the 10-week program!
In order to apply, fill out this form and email it to citizensacademy@sdcda.org or mail it to:
ATTN: Citizens' Academy, 330 W. Broadway, Ste. 1300, San Diego, CA 92101.
Praise from those who attended previous Citizens' Academies remains strong and continues to grow. Here's what a few of them wrote:
"If you want to learn more about how the District Attorney's Office – and all branches of government – works in San Diego County, take this class. The Citizens' Academy is a great way to learn how your government works and how your tax dollars are spent." Paul Krueger, Senior Producer, NBC 7 San Diego
"Attending [the] Citizens' Academy has given me a different perspective on the San Diego justice system. I have much respect for the individuals who serve San Diego and make sure its citizens are safe." Maryanne N., Director at a biopharmaceutical company
"No matter your professional background, the Citizens' Academy is interesting, relevant, and informative. A wonderful program that showcases the professionalism, collaboration, and expertise of the San Diego District Attorney's Office." Sarah, Program Coordinator at a local non-profit
"Absolutely worth the time. I looked forward to every speaker and have enthusiastically shared everything I've learned with family, friends and my students." Mary, High School Teacher
Spring 2015 Handouts
Flyer
Ten-Week Program
Application Form/Background Check Waiver
Contact Information
Email: citizensacademy@sdcda.org Phone: (619) 531-3531