Internet Safety

The San Diego County District Attorney's Office is providing Internet monitoring software to help protect San Diego County children from becoming victims of online predators and bullying. The 'Computer Cop' software allows parents to quickly scan photos, videos, emails, and chat messages on their children's computers, looking for inappropriate content. The District Attorney's Office is providing the software free of charge, in part as a response to an increase in prosecutions of internet predators. Experts estimate that one in seven young people online received a sexual solicitation or approach, and 34 percent had unwanted exposure to sexual material.
The software allows parents to quickly review the history of the web sites visited, see every photo or video that's been viewed, shared or received. Computer Cop searches documents, including Internet cookies and text logs looking for key words of a sexual nature, drug slang, gang names and terms, weapons, and violent or threatening words. It highlights language that an internet predator, criminal, bully or hate group might use. The software can also capture chat and email conversations. Parents can also enter their own key words and be notified by email when any of those words are typed, alerting them to inappropriate chat or texting.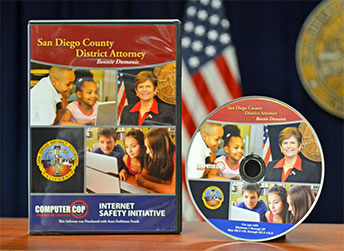 Using asset forfeiture funding (money taken from drug dealers and other criminals) the DA's Office is making this software available to any San Diego County resident who wants it, as long as the supply lasts. Copies can be picked up at any District Attorney location, including the 13th floor of the Hall of Justice downtown, or the District Attorney Offices in the North County, East County or South Bay. One copy of the software per family, please.
The District Attorney's Office is a founding member of the San Diego Internet Crimes Against Children Task Force (ICAC), which conducts full-time online investigation of internet predators. San Diego ICAC addresses the problem of online predators by using a two-pronged system. First, by identifying, arresting and prosecuting offenders. Second, by educating the public about potential risks and safety measures available for families.
Every year children are starting to use the Internet and computers at a younger and younger age. Because children are often trusting, naive, curious, and eager for attention and affection predators will target them online in order to take advantage of them. According to the National Center for Missing and Exploited Children (NCMEC), less than 5% of parents are aware of online sexual exploitation and even fewer think their child is at risk. It is important for parents, law enforcement and society as a whole to know of the dangers children face on the Internet and how to reduce the risks of being victimized.