SB 618 Prisoner Reentry Program
SB 618 Media
Here you will find articles, news and press releases and reports relating to the SB 618 Program. See the SB 618 Prisoner Reentry Program Brochure.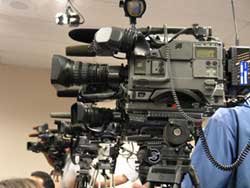 Articles and News

San Diego County's unique prisoner reentry program establishes solid partnerships to shut down the revolving door into California's prisons and makes a difference in rehabilitating prisoners.


This article highlights the initiation of the County of San Diego's prisoner reentry plans. Reprinted and/or posted with the permission of Daily Journal Corp. (2010).


This article highlights San Diego efforts as the first county in California to initiate a comprehensive multi-agency reentry program intended to help prisoners successfully re-enter society.


This article examines how various San Diego nonprofit coalitions seek to help parolees avoid returning to prison.


This interview addresses how to reduce recidivism rate in California through rehabilitation and reentry programs, San Diego County District Attorney Bonnie Dumanis discusses the SB 618 Prisoner Reentry Program.


Alcoholism & Drug Abuse Weekly Abstract: This journal article highlights the San Diego District Attorney's leadership on the prisoner reentry forefront in California and the importance of community reintegration, substance use rehabilitation programs.


Press Releases
Reporting

Improving Reentry for Ex-Offenders in San Diego County: SB 618 Third Annual Evaluation Report, May 2010
San Diego Association of Governments (SANDAG) conducts the process and impact evaluation and this report provides preliminary findings for the SB 618 Prisoner Reentry Program. This evaluation is funded by the California Department of Correction and Rehabilitation (CDCR) through SB 618.
Program Contact
JJ Anderson, Community Programs Director
San Diego District Attorney's Office
(619) 531-3567
Learn More
[an error occurred while processing this directive]