SB 618 Prisoner Reentry Program
SB 618 Life Plan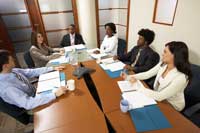 The Life Plan is a dynamic document, changing as Participants reach measurable goals. The Life Plan charts Participants' needs and progress from assessment to program completion. Information maintained in the Life Plan includes personal demographics, screening and assessment results, and case management notes entered by the Prison Case Manager (PCM) and Community Case Manager (CCM). The Life Plan maps a course of action to help put the Participant on track towards successful reentry. It includes input from the Participant, the multidisciplinary team, the California Department of Correction and Rehabilitation (CDCR) representative and the assessment results. The Life Plan follows the Participant through their incarceration and reentry into the community and is utilized to provide offenders with needed services.
SB 618 Participant Benchmarks
Participant Benchmarks for the SB 618 Prisoner Program should be accomplished by the end of the program in order to graduate. The program design includes full participation while in-custody and in the community. Benchmarks suggest reasonable progress toward goals laid out in the Participant Contract and developed in the Life Plan. Participant Benchmarks provide specific program goals to successfully utilize available resources and support in prison and in the community. These Benchmarks reflect the input of SB 618 program staff, Participants, and alumni.
Learn More
[an error occurred while processing this directive]