Newsroom
Podcasts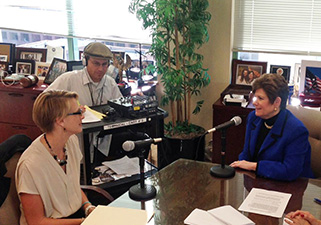 District Attorney Bonnie Dumanis is proud to include podcasting on the list of methods she uses to keep the citizens of San Diego County informed about local public safety and law enforcement issues. These podcasts are available here, as individual links or through the RSS feed.

Podcast Archive top
What is Podcasting? [Top]
Podcasting is publishing an audio file over the Internet. The file is an .mp3 formatted audio clip that can be played back on any .mp3 capable device.

What equipment do I need? [Top]
All it takes is a personal computer with Internet access. If you have a portable device such as an iPod, you can even download the clips to play away from the computer.

How do I get started? [Top]
If you would like to automate the process of downloading the audio clips, you will need to install podcasting software on your computer. The software that came with your iPod or other portable player is a great place to start. If you do not have a portable player, either Juice or jPodder will let you get started.