CITIZENS' ACADEMY
Citizens' Academy Overview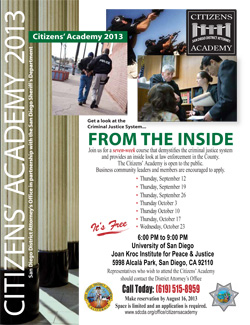 The San Diego County District Attorney's Office in partnership with the San Diego County Sheriff's Department is offering a free Citizens' Academy to community members. This year, the 7-week program is designed to engage members of the San Diego business, civic and religious communities in an interactive dialogue on criminal justice issues and on the court system in San Diego County. In an effort to improve communication and engage members from the community, the academy will provide citizens with a unique look inside the criminal justice system through a diverse group of speakers from the District Attorney's Office, the San Diego Sheriff's Department and the judiciary. The academy will provide information and resources, mutual learning, an understanding of legal issues and an exchange of ideas.
The academy will include topics of general interest, with an emphasis on topics relevant to the San Diego business community. Participants will learn how economic crime and insurance fraud costs San Diegans and what the District Attorney's Office is doing about it. The academy will meet Thursday evenings beginning September 12, 2013 through October 17. The last class will be held on Wednesday, October 23. The academy lasts three hours each week, from 6:00 to 9:00 p.m., and will be held at the University of San Diego, Joan B. Kroc Institute for Peace and Justice, located at 5998 Alcala Park, San Diego, CA 92110. Parking is free.
Thank you for your interest in this year's Citizens' Academy. Unfortunately, the deadline has passed and we are no longer accepting applications.
Topics
Some of the topics included in this year's Citizens' Academy are:
Overview of the San Diego Criminal Justice System
The Role of the District Attorney Bureau of Investigations
San Diego Sheriff's Crime Lab
The Computer and Technology Crime High-Tech Response Team or "CATCH"
Field Trip to the Medical Examiner's Office
Homicide Case Presentation
Auto Insurance Fraud
Regional Auto Theft Task Force
Workers' Compensation Fraud
Life and Annuity Fraud
Disability Healthcare Fraud
San Diego Sheriff's Presentation on Use of Force (Including Weapons Simulator)
Officer Involved Shootings
Judges' Night
State of the Jails and Courts
Community Outreach