Bureau of Investigation
District Attorney Public Assistance Investigator Jobs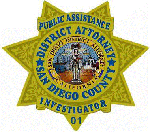 The San Diego County District Attorney's Office is continuously seeking experienced and qualified investigators to fill the position of Public Assistance Investigator and DA Investigator. San Diego County is located in beautiful Southern California and is home to magnificent beaches and family attractions. The San Diego Zoo, Sea World and excellent educational institutions are within minutes of the Pacific Ocean. The District Attorney's Office serves over three million citizens spread over 4,500 square miles.


Job Summary
Public Assistance Investigators (PAI) are sworn peace officers, as defined in Penal Code Section 830.35, with law enforcement duties. They conduct routine and complex investigations within the categorical forms of public assistance/welfare including, but not limited to cash aid, Food Stamps, child care, subsidized housing, etc. Public Assistance is part of the Economic Crimes Division, within the Bureau of Investigation, which is responsible for both proactive and reactive law enforcement duties. Assignments include: fraud prevention and detection (Early Fraud) and ongoing or closed case fraud (Full Field). Job locations include our main office in Kearny Mesa and multiple outstations throughout the county. Learn more about the job classification details.


Requirements
Qualified applicants for Public Assistance Investigator Trainee must possess:


One (l) year of experience performing field investigations in law enforcement, revenue and recovery, tax collection, or in a public prosecution agency. Qualifying experience must include conducting interviews to collect and verify information; compiling and analyzing findings and data; interpreting and applying rules and regulations; and preparing reports for prosecution of cases; OR,
One (l) year of experience in a public social services agency determining initial and continuing eligibility for public assistance; OR,
Completion of the California P.O.S.T. certified basic law enforcement training academy; OR,
Completion of the California POST Specialized Investigators' Basic Course.
Subsequent to employment, those hired will be required to meet the P.O.S.T. provisions through equivalency testing and/or completing any P.O.S.T. training necessary (see California Penal Code Sections 830.35 and 13511). Qualified applicants must have a valid California class C driver's license, which must be maintained throughout employment. Employees in this class may be required to use their own vehicle.
Salary and Benefits
Pay Range: $3,920 - $5134 monthly (PAI Trainee, PAI I Step 1 to PAI II Step 5)
Health Insurance: Health, Pharmacy, Dental, and Vision
Employee Assistance Program
Insurance: County paid basic life insurance and AD&D insurance
Supplemental Insurance: Employee option for supplemental life and AD&D insurance
Paid Leaves: 10 days vacation; 11 holidays; 2 floating holidays; 13 days sick leave
Retirement: County Tier A retirement
Options: Exclusive use of a County vehicle; emergency equipment; overtime; bilingual pay
Application Information
To contact us for additional information and questions or to be added to a notification list, e-mail us at PAI Jobs.