Victim Services
Special Events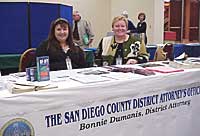 National Crime Victims Week
This victims rights week is observed every April, with special activities organized by Victim Advocates. Special awards are then given to individuals and organizations who have provided outstanding service to victims and witnesses of crime in San Diego County.
Holiday Donations for Crime Victims
Each holiday season, the Victim Services staff organize and deliver donations through our adopt-a-family program. The office-wide effort helps crime victims and their families throughout the county.